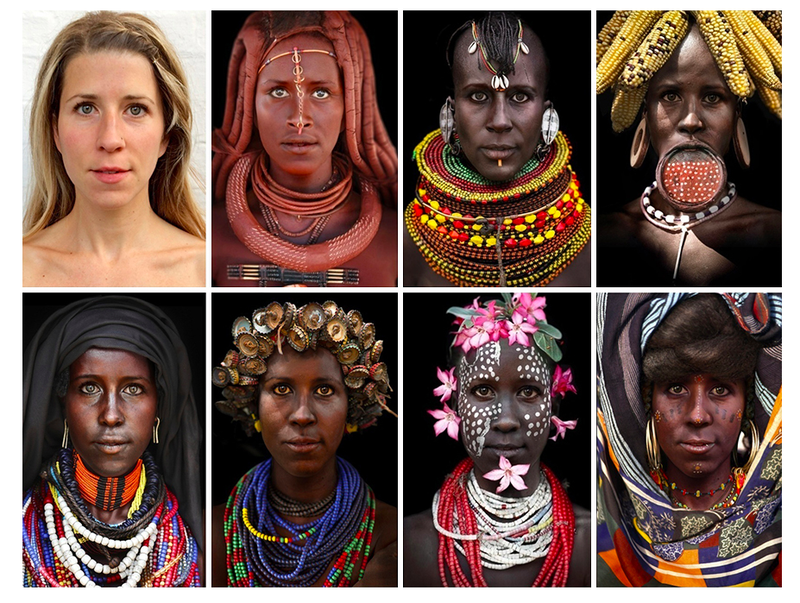 I'm a little late to the table on this one because I've been busy, but as my birthday approaches and my patience thins as I age, I really wanted to weigh in.
I'm not going to rehash the whole story of the Hungarian journalist - pictured above in all the pictures - who claimed she was raising "awareness" about secluded tribes by taking pictures of seven African women and then photoshopping her face in place of theirs. By now, we've all read the story and its various
satirical incarnations
.
The first photoshopped pic, if you notice, is of a Himba woman (
it's always the Himba
). For those of you who've been at the Bar since 2010, you'll recall that
I wrote about the Himba
a few times, and thus they are the perfect example of the issue we all need to discuss that I've noticed no one has so much as mentioned thus far.
The
reason
the Himba only number at 50,000 is that White people (specifically the Germans, in this case) actively engaged to wipe them out. It was White "awareness" of their land and their resources which signed their death warrant. Not once in all the back and forth about this latest racist debacle did I see where people - especially White people - were bringing this up. Instead, it was the whole, "It's a such a shame everyone's ganging up on this poor White woman instead being aware that these cultures are disappearing," with the unspoken add-on, "you know, 'cause Africans are just so messed up."
This is why in 2016, I'm going to even
less
interested than ever before in White commentary on Black people. Unless they're cutting fat reparations checks to every Brown country they fucked over and then shutting up and getting out of the way of our progress, I'm really not all that interested in what most of them have to say. White "Awareness" is simply White Saviorism:
toxic
, and everybody knows it. Why do you think so many Brown people's cultures are
still
on the brink of being wiped out now in the 21st Century? You think the continued deforestation, trading agreement manipulations,
state-sanctioned police murders
, the
poisoning of a 60% Black city
, and the
sterilization of 500,000 Kenyan women
are all
accidents
from half a century to multiple centuries ago?
Or this:
In March 2008, former French President Jacques Chirac said:

"Without Africa, France will slide down into the rank of a third [world] power"

Chirac's predecessor François Mitterand already prophesied in 1957 that:

"Without Africa, France will have no history in the 21st century"

At this very moment I'm writing this article, 14 African countries are obliged by France, through a colonial pact, to put 85% of their foreign reserve into France central bank under French minister of Finance control. Until now, 2014, Togo and about 13 other African countries still have to pay colonial debt to France. African leaders who refuse are killed or victim of coup. Those who obey are supported and rewarded by France with lavish lifestyle while their people endure extreme poverty, and desperation.

It's such an evil system even denounced by the European Union, but France is not ready to move from that colonial system which puts about 500 billion dollars from Africa to its treasury year in year out. (Source)
These are all happening
now
.
Whites are "aware" of them now
, and they are doing nothing, because to actually
do
something would negatively impact their lives. And they're well "aware" of that as well.