(Thanks, Ms Afropolitan!)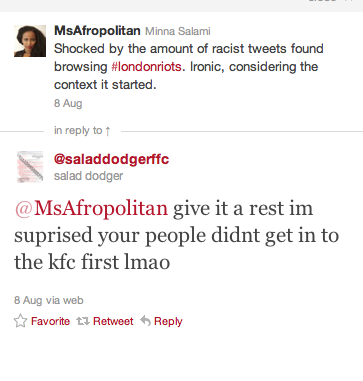 The nihilistic grievance culture of the black inner city, fanned by parts of the hip-hop/rap scene and copied by many white people, has created a hardcore sub-culture of post-political disaffection. The disaffection is mainly unjustified. It's as if the routine brutalities and racist humiliations of 30 to 40 years ago have been lovingly preserved to provide a motor of real anger for what is really just a kind of adolescent pose.

~ that nitwit David Starkey
I don't really have much more to add to Rashid's brilliant and spot-on comments. This is a classic case of a seemingly universal white tendency to flee responsibility. With both Americans and Brits attempting to
rewrite and obscure
both recent and distant history, the term
draptoresponsia
has never seemed to be more meaningful.
This drapto behavior coming out of white Britain is
supremely
pathetic. Forget upsetting, disturbing, or offensive -
it's pathetic
. It's right on par with those "grown" white shitheads who
threw their drink
on a 6-year-old black girl. It's on par with every pack of white folks who braaaaavely ever outnumbered and assaulted a single POC. David Starkey and all his mates might as well get forehead tattoos proclaiming, "Spineless, dickless wastes of space walking. Keep minimum safe distance in order to avoid contamination."
Seriously, white people...if running away from responsibility, borrowing trillions of dollars, attacking the defenseless, stuffing women in dumpsters, and
fucking little boys
is how you demonstrate your might, you may as well just give up now.
And for all you white people out there struggling to make a living, remember this. Remember this moment when, once again, black people were blamed for all your problems. Remember how satisfied and comforted you were when you were told everything was someone else's fault, and someone else's problem. Replay this moment over and over again in your mind the next time you're stressing to pay bills and some politician with a six-figure salary tells you black people are the reason why your employer won't give you a raise, or why food is so expensive, or why the price of utilities has gone up, or why you can't afford tuition for your kids, and there are no jobs waiting for them.
Do be kind and rewind to this moment when your wealthy counterparts
sold you down the river
yet again
so they could
comfortably maintain the status quo
. And remember how willingly you bent over, thinking you were taking one for the "team."