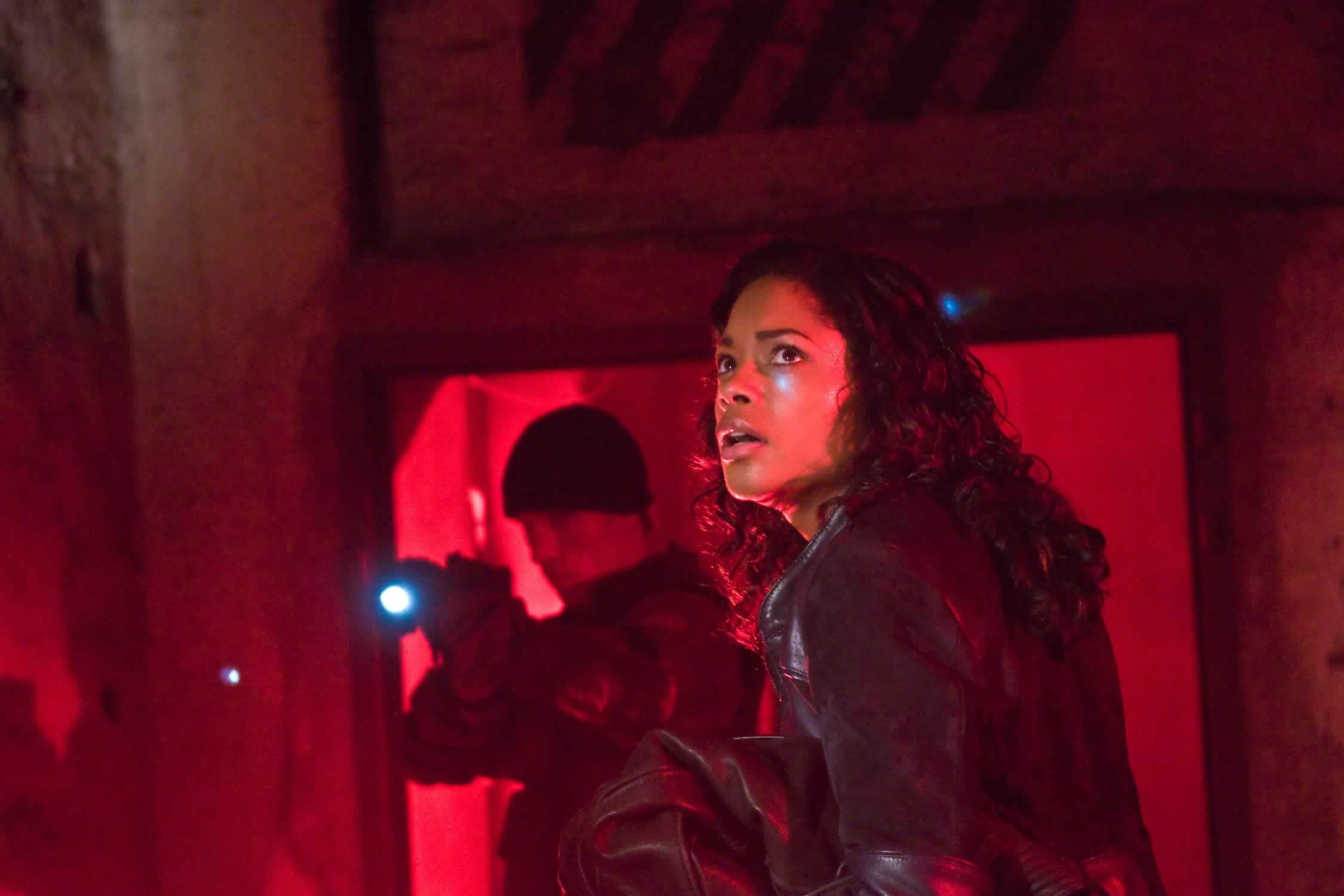 "You wanna what's also great about this movie? There's no love story. There's no bitch fucking up this movie, yelling at the dudes, complicatin' shit...."

~ the infamous lil sis, talking about The Boondock Saints
I have criticized actors of color who take shitty roles which demean their being of color (Lawd knows some of what I said
didn't sit too well with some folks
). But now I need to say something to actresses who take shitty roles which basically relegate them to just being "the woman" -
ladies, cut that shit out
. There are more respectable ways to make a damn paycheck. Many of us function sanely pulling a 9-5, and if that's what you need to do to pay your bills, then goddamn it...
get yourself an alarm clock and work that 9-5
.
Critics panned
Ninja Assassin
, but at least Naomie Harris served a purpose; fuck,
she saved Raizo at least four times
, and Rain earned a "Biggest Bad-Ass Award" for that role. Yes, there were some tears and some screaming, but I'd be screaming too if there was a price on my head and fucking
ninjas
were the ones gettin' paid (not to mention, psycho super-ninjas like these).
And let's not forget how critics also panned
Alien vs. Predator
...but Sanaa Lathan was literally the last one standing when all hell broke loose and a major shitstorm when down. She didn't even have a gun, children. Ole Preda-dude gave her a shield and a friggin'
spear
, and she represented nonetheless.
How bad-ass
is that?
Gee...let me count the ways.
And no...in the first
Matrix
movie (the others sucked), Trinity
didn't
have long, flowing hair, or abundant cleavage, or a face full of makeup, or a high, sweet, "damselly" voice. What Carrie Anne Moss
did
have, however, was a gun, a 'tude, a sharp pair of sunglasses, and my complete and
utter
respect.
Now...I get that the bigwigs in Hollywood often hesitate to write these types of roles, but ladies, you have
got
to stop settling for anything less. I'm tired of seeing homebound, nagging, whining, unfulfilled wives and moms making unrealistic demands of the men in their lives while annoying the shit out of their kids.
For fuck's sake, it's about to be 2011. I want to see more ladies like
these
. Give me bad-asses, give me brainiacs, give me
tank girls
, give me
vampire-slayers
and
warrior princesses
...give me the ass-kicking,
all-female horror movie cast
.
We've talked about the stubborn "white saturation" of America's current visual market, but we haven't talked much (here) about the testosterone poisoning that's been infecting the visual market (
and musical market as well
, as evidenced by the "silencing" of female rappers). It's always "about the guys." And the growing comfort with male frontal nudity and supposedly "platonic" homoeroticism (looking at you,
Spartacus
) isn't helping; it's just the newest excuse for men to hog the camera.
Women make up roughly half the population, if not more. And our spendaholic asses have more buying power than men.
There is NO excuse for the rarity of good female roles in Hollywood - nada
. When you have these female roles, everyone wins. The womenfolk win (obviously), the male nerds win ('cause they don't suck), and Hollywood wins because these films never fail to make bank. So the $64,000 question becomes...why aren't there more?