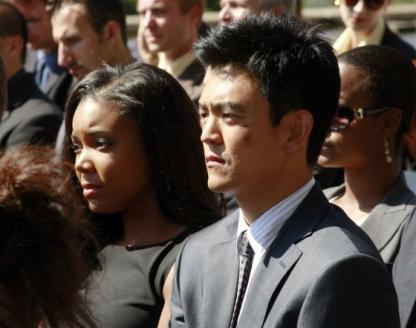 How FlashForward Went and Fucked Itself I
How FlashForward Went and Fucked Itself II
Watched the finale on Hulu this afternoon. There's not enough *retch* in the world. Let's take a look at its main flaws one by one, shall we?
Zoey Was Absent
'Nough said.
Demetri Was All Over Janis Who, Naturally, Still Doesn't Want Him
Again...'nough said.
Mark Benford Lived
*twitch*
Meanwhile, the dialogue deteriorated to a new level of "atrocious", so much I actually flinched when I found myself getting annoyed with
Jack Davenport
, of all people. There's supposed to be a film or mini-series or some other bullshit to "tie up loose ends" but at this point, I gotta ask the $64,000 question:
Who cares?
Seriously...it's the final episode and motherfuckin'
John Cho
got put on scenery duty. Gabrielle Union was neither present or nor mentioned. Christine Woods (Janis) had a kind of mushy moment with Cho, even though she's supposed to be playing a lesbian. Not once does Cho's character mourn being dumped by his woman. He doesn't even say her name or drop everything to go find her which, last I checked, people in love are supposed to do.
Twenty bucks says Cho had a migraine when he read the script. All his luster was gone; all that passion and humor and charisma was just
gone
. He had the look of a man so
beyond
annoyed with his role it broke my heart.
But anyways
...Cho has recently finished playing "Kama" in his upcoming demented film
Caller ID
, has started work on his next
Harold & Kumar
film, and as we all know, has already signed on for two more
Trek
sequels, whose paychecks will no doubt vastly dwarf anything he earned from
FlashForward
. Gabrielle Union is rumored to be in pre-production for
her
film
The Van Zandt Shakedown
- and if it goes down as planned, she'll have top billing, y'all...just as the gods intended.
In the meantime, Michael Ealy is part of the hot, young, mostly colorful cast of
Takers
(in theaters this August). And Christine Woods has just finished starring in
Sveener and the Shmiel
(again, top billing), while Courtney B. Vance is currently filming
The Divide
with an all-star ensemble. So
FlashForward
, thank you
very
much for paying the rent while these fine folks got where they
actually
needed to go.
Fuck your writers very much, and have a nice day.