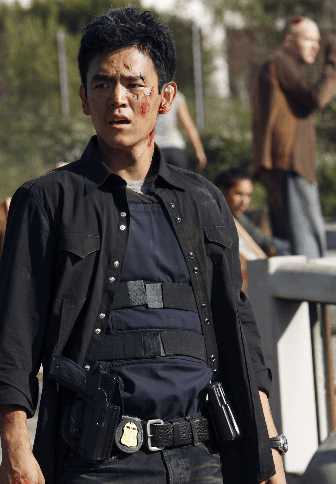 Remember Demetri Noh when the Old Regime was running
FlashForward
? Remember how mind-numbingly sexy he looked in those jeans? How much smack he unapologetically talked to
e'rybody?
When he was whoopin' the dog shit outta suspects? Remember how he was two seconds away from slamming the snide face of that Alda bitch into the conference table?
ABC...seriously...I
want
my old Demetri Fuck-You-I'm-a-Bad-Ass Noh back.
We've had this conversation
. Why is American television so afraid of a strong, good-looking, Asian-American male actor who doesn't abide by America's favorite stereotypes? Mind you, this isn't just
any
Asian-American actor
FlashForward
was fortunate enough to get on its cast list. This is
John-Motherfuckin'-Cho
, and ABC better recognize. There's nothin' better - gi' ya dat one mo' gin -
nothing better
than watching a fine-ass, kick-ass Asian man on TV today saying "Fuck you" to America's stereotypes.
But alas...the new regime came.
And the new regime felt the need to "put him in his place." We see him lose a fight to Marshall Vogel. Though Vogel is a ridiculously beautiful black specimen, he's basically the show's house Negro. The first few times we see him, he's basically giving Demetri the "don't anger Massa" spiel. I mean, seriously...how
dare
Demetri want to stop his own murder? How
dare
he want to live out his life and grow old with a
fine-ass black woman
? How dare he? How
dare
he do
whatever it takes
to save his own life? Sheesh - the irrationality of this man!
*scowl* That was sarcasm, by the way.
Demetri is a bad-ass, but he gets knocked down by Vogel first day back under the new regime. And Vogel has the gall to crack a joke about Demetri's woman marrying somebody else after he dies? WTF?
Then, we see Demetri clashing with said fine-ass black woman and developing chemistry with a white chick who, of course, rejects him. Yes, we've seen this in person and in "art" a thousand times before but ahhhhhhh...the new regime has an excuse. See,
this
chica blanco is a
lesbian
, so she has a "valid reason" to reject the Asian guy this time when he offers to forget he has a fiancee and "help father her baby". Now there's a question as to whether or not he did, giving what was to be an imaginative TV show a trashy talk show/soap opera feel.
I mean, seriously? Twenty million people are dead from the black-out, and the world is supposedly going to end in 2016 and...what, we're supposed to stop and care about whether or not Janis is carrying Demetri's baby?
Welcome to white, All-American television, children. For those of you just tuning in...yes, it's vomitacious. No, I
don't
know what else to tell you...except
for the contact information for ABC
.
May the hate mail floweth in droves.
~~~~~~~~~~~~~~~~~~~~~~~~~~~~~~~~~~~~~~~~~~~~~~~~~~~~~~~~~~~~~~~~
PS - If you
do
send a scathing message to ABC, by all means...share it with the rest of the class! Just copy and paste it into the comment section below!