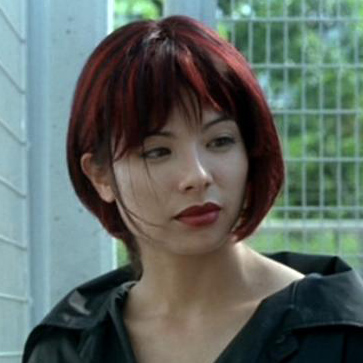 What...the fuck?
I first saw Canadian-born and raised Miss Françoise Fong-Wa Yip in
Black Mask
opposite Jet Li. Naturally, I fell in love. I love me a punk rock wig-wearin', ass-whoopin' woman. The world needs a lot more of them, quite frankly. (She was also in
Rumble in the Bronx
, but...come
on
.)
In the meantime, I waited. I figured that once producers, writers, and directors saw what you're seeing to the left here right now, her career in Hollywood would take off. Ah...me of too much faith. I didn't see Miss Thang again until
Romeo Must Die
(you have to watch all the way through), where she wasn't
nearly
featured enough. Years, later, I saw her again. But to say she was grossly overlooked and underused in
Blade: Trinity
is an understatement of epic proportions. I love me some Parker Posey and all (I actually do), but chica should have been given top billing.
So back to my original question:
what the fuck?
How did Hollywood miss her? How do you
miss
her? Who looks at
her
and thinks, "Nah, we can't possibly come up with a kick-ass starring role for her?" To her credit--and the lack of stupidity of some--
she has stayed busy
, but not starring-on-the-silver-screen busy. So again...
what the fuck?